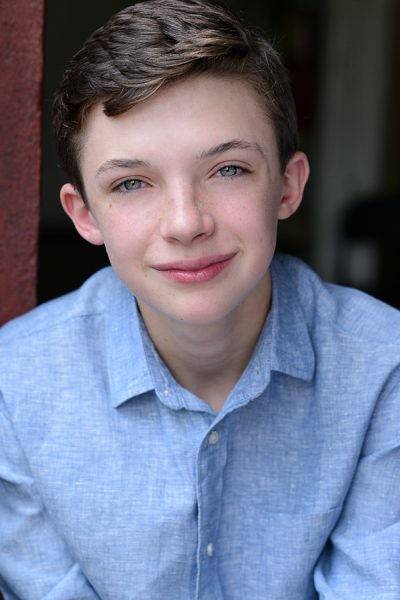 Toren Anderson has worked with dozens of ministries across the US to help and advise on ways the church can be more aware of practical ways to reach the lost. She has coordinated outreach, events and shares on simple ways all of us can be the change and reflect a relevant and loving Jesus to others.

Toren and her son Aidan, age 16 co-founded Aidan Cares an awareness initiative imparting the joy and necessity of giving to others 8 years ago. They have worked tirelessly as a team with the knowledge and mission that love is an act. They have reached millions with their mission.

Aidan Thomas Hornaday, 15 is a boy on a mission. His awareness initiative, AidanCares.com co-founded by Aidan and his mother Toren Anderson is all about imparting the necessity and joy of giving to all ages. Aidan believes we are all defined by how we treat the least of these and wants to spend his life as a difference maker. Aidan is a musician and has shared his message and music in many parts of the US and overseas since he was 8 years old. After playing harmonica in a restaurant one night at a restaurant, he received $80 in tips. A windfall to a boy. But after realizing "I have everything I need, I want to give it to sick children in Africa." He made the choice to donate it all to purchase anti-parasite pills. That one simple choice to give changed his life and put him on his path of purpose. It all went from there. Aidan plays blues harmonica, ukelele, sings and shares his story and encourages audiences everywhere he possibly can including: schools, corporate events, festivals, leadership summits and youth gatherings to encourage people to find their passions in giving. He says, "Love is an act. So we must act and be our brother's keeper. Whether it's people, the earth or animals, we need find the give that makes our heart sing." 
 
 
He is his 9th year serving and sharing thousands of hours since reaching old and young with compassion and truth. He has partnered with hundreds of non-profits and has been a part of fund raising efforts for many charities. Aidan received the Coretta Scott King A.N.G.E.L. (Advancing Non-Violence in Generations of Exceptional Leadership) award in 2015 year alongside other givers such as Orlando philanthropist Harris Rosen. He gave a powerful benediction prayer at King Holiday the same year, it was viewed by millions. Not once in the entire time serving has Aidan complained at the sacrifice of time to help change the world. Part of his mission is that he wants more children to be raised to give no matter the cost. 
 
Aidan has served over 500 charities, non-profits, schools and also given his time and talents to countless individuals in need. He and mom Toren, co-founder of Aidan Cares are a team, they work on all aspects together. "My Mom taught me to give. I never remember when she was not sharing whatever she had and giving and making a difference. She is a world changer and that was my goal to be like her." Causes have ranged from serving children with cancer, the homeless, many schoolchildren, veterans and military causes, environmental causes such as spokesperson for Children's Health Care of Atlanta, Captain Planet Foundation, Earth Day Kids Fest, Sky Ball, Atlanta Humane Society, Snowball Express, Pediatric Brain Tumor Foundation and many others. Aidan has been a part of fundraising efforts that have raised millions of dollars for worthy causes.
 
In December 2015, Aidan received the Rosa Parks "Legend in the Making Award" for the 60th Bus Boycott Anniversary events in Montgomery. 
 
Aidan received The Daily Point of Light Award in June 2016 including a certificate and personal letter signed by President George Herbert Walker Bush #41. 
 
He will be awarded Hasbro Community Action Hero Award in NYC in February 2017.
 
As an adult he plans to continue this journey. He wants to continue as a catalyst for change. "I want to help others learn to give no matter how small the amount, it all makes a difference." This year, Aidan will travel to Europe to begin his tenure as the Resident Speaker on Service & Contribution Youth Leadership Summits on 5 continents wrapping in 2017. He will work with youth from all backgrounds to find their passion in giving and create contribution contracts. To date thought the youth summits where he has served, Aidan has encouraged youth from over 30 nations to start their own giving initiatives. His first summit was Anthony Robbins Global Youth Leadership Summit in San Diego, he was invited personally by Mr. Robbins after they met at an event. That event in 2013, lead to Aidan being invited to share in Europe. He continues to Skype and guide youth from near and far.
 
His favorite scripture is Matthew 25:40 and he believes we are all defined by how we treat the least of these, which could mean anyone anytime right beside you. "Need means many things." Aidan always shares the message that wellbeing will always be lacking when one is not giving and serving on a regular basis. He says, "Otherwise, you come up empty." We are at a horrific type of epidemic of entitlement, selfishness and extreme disconnection in our society. He teaches on the topics of social responsibility, love as an act, being Christlike 365/24, connection and modeling giving to others. The focus is on running to need is the answer, not ignoring it. 
 
Aidan realized in the past few years, his commitment to serving others is rare. He does not wish to be rare. It's a true battle and he is in it to make a difference and help other natural born givers begin along their path to giving.  A concern is that many born to give, never get to experience giving in any capacity and then live unfulfilled lives.
 
Aidan has given 4 TEDx Talks. At age 11, was the keynote speaker for United Way 75th Anniversary in Savannah Georgia, the philanthropic keynote for Hard Rock International at age 12, and also has been featured on Fox News, MSNBC, NBC, ABC and other outlets nationally. In May 2016 , Aidan shared the main stage at Leadercast, the largest one day speaking event in the world with an audience of over 100,000 along with Steve Wozniak co-founder of Apple, Coach Nick Saban and others. Aidan was born in Marietta, Georgia. 
 
He is a singer/songwriter, he loves Jesus, playing his harmonicas, guitar and the ukelele, exploring other cultures, hanging out with people of all ages, food, photography and his favorite sport is basketball. Aidan also serves youth as often as he can. Each weekend in Atlanta he serves children in the housing projects where he is deeply committed to imparting validation into the little ones. He works to encourage peers and adults alike in their giving paths. 
 
His college team is the UNC Tar Heels. Also, he loves the Atlanta Hawks and the Golden State Warriors. Aidan attends Khan Academy online for homeschool.
 
He plans to preach, teach, serve, highlight needs in the world the rest of his days.